Episodes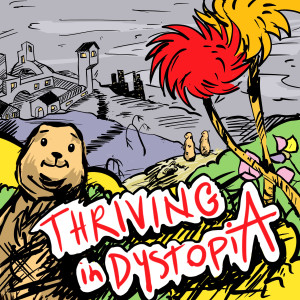 Saturday Jan 23, 2021
Saturday Jan 23, 2021
New year; new season.  Bob joined the International Worker of the World (I.W.W.) and talks about what being a Wobbly means to him.  They go on to discuss the implications of the recent white vigilante attack on the U.S. Capitol.  
The brothers "set the table" for the new season, Season 5.  The big theme is "avoidance" as the Thriving Crew feels like this theme does not get talked about that often.  They play with confrontation as the opposite of avoidance.  They wonder when does a healthy avoidance, say of avoiding traffic, turn into an unhealthy avoidance, like putting it off and then never dealing with it? They see some value in avoidance, but they do see some of their own bad habits around avoidance in their lives.  
They hope to talk about how to know when avoidance is happening, procrastination, the disgusting, in-group/out-group and social power, how to come back to the avoided, and avoid the Noid.
Tuned-in: Recent episodes of Revisionist History on second waves of vaccines
Dystopian Rainbow
The Giver by Lois Lowry. Does it still hold up 30 years after it was written? Is the ending too happy? 
Contact info
Email - davepeachtree@gmail.com
Twitter - @BMaze19
IG - Thriving_In_Dystopia
Website - https://thrivingindystopia.com/
TikTok - @davepeachtree
Deep appreciation to In Heaven by Drake Stafford for our intro song, Bashful by Ketza is the new outro, the prolific and enigmatic Joe Shine for the thumbnail art.   Big thank you to Nadir Čajić for editing this week's show.   Finally, we are indebted to the wonderful Chris Sawyer for funding and creating our new website.  Thank you, Mix.