Episodes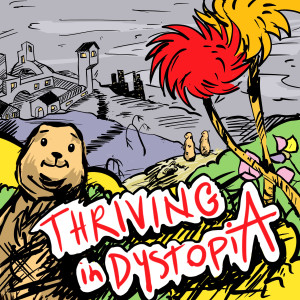 Monday Jul 06, 2020
Monday Jul 06, 2020
Dave starts us out with a beautiful story about jazz, chess, coffee, and coming full circle.  The show then dives into getting a better understanding of the world through the prisoner's dilemma.  Bob and Dave use this classic tool from game theory to understand the awful situation in spiking COVID in the U.S.; to getting a sense of the deep importance of mutual aid networks; and finally, to how social justice activists and revolutionaries can protect each other in times of great repression.
Huge thanks to In Heaven by Drake Stafford for our intro song, A Time for Action by Kennedy for our outro, and the prolific Joe Shine for the thumbnail art.
Oh no!  King Supers is getting rid of the Penny horses.
Support author/educator/hero Kimberley Jones' patreon with Dave and Julie.
Watch the multi-talented Daveed Diggs perform "What to my people is the 4th of July?"
Our good buddies' great podcast, "The Single Acorn," about natural history, biology, and more! 
For prisoner's dilemma superfans here is a video representation with less use of the word "squeal." 
Russian anarchist Peter Kropotkin's important book on mutual aid.
The amazing abolitionist Dean Spade's article on mutual aid groups and the must-read solidarity not charity.
45's attack and imprisonment on BLM activists/revolutionaries.
Please support the Black Hills Legal Defense Fund if you can.
Tuned-in:
Unlocking Us podcast with Brene Brown.
Boys 4 Now music video (super Backstreet Boys). 
Coordinates:
Email - davepeachtree@gmail.com
Twitter - @BMaze19
IG - Thriving_in_Dystopia