Episodes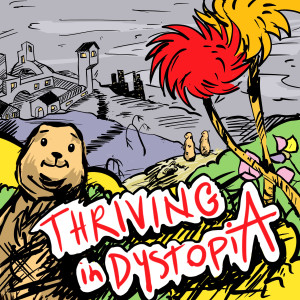 Thursday Aug 04, 2022
Thursday Aug 04, 2022
The brother's are back in the sound studio after a long Hiatus, and boy did we miss it. It felt good to be home. 
This episode is all about grad school and new ideas Dave is learning to implement in his classroom. Bob is a great ear as always and up for a little knowledge. Learn all about ELA, Social Studies, and Math/Science literacy and how we can all implement disciplinary literacy with some great action items and new ideas. 
Here is a link to one of Dave's lessons plans on immigration, but feel free to email for other ideas.
https://docs.google.com/document/d/1aU2p4eVScw3cSIaY2z12ju5y9iyaj53q/edit?usp=sharing&ouid=103573351396379238331&rtpof=true&sd=true
Contact info
Email - davepeachtree@gmail.com
Twitter - @BMaze19
IG - Thriving_In_Dystopia
Website - https://thrivingindystopia.com/
TikTok - @davepeachtree

Deep appreciation to In Heaven by Drake Stafford for our intro song Captain Jack by is the new outro, the prolific and enigmatic Joe Shine for the thumbnail art.   Big thank you to Nadir Čajić for editing this week's show.   Finally, we are indebted to the wonderful Chris Sawyer for funding and creating our new website.  Thank you, Mix.