Episodes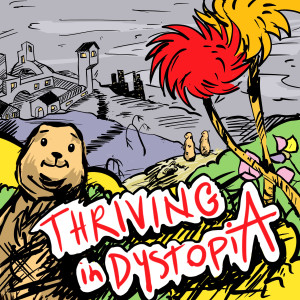 Monday Dec 27, 2021
Monday Dec 27, 2021
It's our 2021 review show.  And it's a Thriving first as both brothers are in-person in Colorado.  For a game and in honor of the Beatles documentary Get Back, the Crew names their top 5 Beatles songs. 
Dave: 5. Rocky Racoon, 4. Hey Jude, 3. Can't Buy Me Love, 2. Let It Be, 1. Here Comes the Sun.
Bob 5. (tie) Here Comes The Sun 5. (tie) While My Guitar Gently Weeps, 4. Tomorrow Never Knows, 3. Strawberry Never Knows, 2. A Day In The Life, 1. Hey Jude
Next the Crew talks about the Peachies, which are Dave's survey on best Sitcoms of all times, but for our show the Peaches are the best shows, movies, and songs of 2021.
Dave: Movie - (tie) In the Heights and Licorice Pizza
Show - Ted Lasso season 2
Song - (tie) Good 4 You by Olivia Rodrigo and Butter by BTS
Bob:  Movie - Judas and The Black Messiah
Show - (tie) Reservation Dogs and Only Murders in the Building
Song - Enfance 80 by Vidoeclub
Finally, the Crew discuss the big news stories and historical events of 2021.  They select 1 each that strongly affected them.
Dave: U.S. pulls out of Afghanistan
Bob: Striketober
Contact info
Email - davepeachtree@gmail.com
Twitter - @BMaze19
IG - Thriving_In_Dystopia
Website - https://thrivingindystopia.com/
TikTok - @davepeachtree
Deep appreciation to In Heaven by Drake Stafford for our intro song Captain Jack by is the new outro, the prolific and enigmatic Joe Shine for the thumbnail art.   Big thank you to Nadir Čajić for editing this week's show.   Finally, we are indebted to the wonderful Chris Sawyer for funding and creating our new website.  Thank you, Mix.