Episodes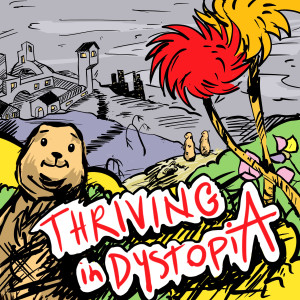 Wednesday Nov 24, 2021
Wednesday Nov 24, 2021
To start off, thinking about coffee has the brothers talking about "old world" vs. "new world" food distinctions.  Dave has found a new youtube channel called the Tierzoo that has inspired an assignment in his class.
The topic of the day in Revolutionary Love is grieving.  Bob gives a recap from last week and how wonder might flow into grief, and then they give an intro to grieving based on Valerie's life and the chapter on grieving from See No Stranger.  Dave relates a story from a recent hike with his mom reflecting on grief/loss that gave him a few insights on grief (including how the awe of the hike allowed for a deeper grieving). 
The Crew then reflects on the path of the pandemic to George Floyd's killing to rebellion/revolution.  Referring back to the episode with Katie G, Bob connects grieving together to the power of stories, telling stories, and the importance of holding space for each other. Dave recognizes that the creation of space is an act of (revolutionary) love and links this to the creation of vulnerability with one another. 
TierZoo: https://www.youtube.com/c/TierZoo 
The Revolutionary Love Learning Hub 
Courageous Conversations on Race
Stoneface
Dave got himself on his joke.
1:1
Contact info
Email - davepeachtree@gmail.com
Twitter - @BMaze19
IG - Thriving_In_Dystopia
Website - https://thrivingindystopia.com/
TikTok - @davepeachtree
Deep appreciation to In Heaven by Drake Stafford for our intro song Captain Jack by is the new outro, the prolific and enigmatic Joe Shine for the thumbnail art.   Big thank you to Nadir Čajić for editing this week's show.   Finally, we are indebted to the wonderful Chris Sawyer for funding and creating our new website.  Thank you, Mix.