Episodes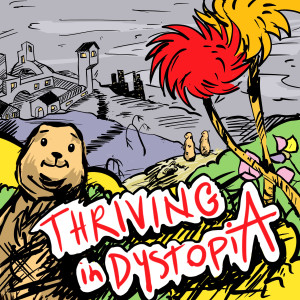 Monday Aug 09, 2021
Monday Aug 09, 2021
The Crew addresses the long delay between recording.  Don't worry everyone, we still love Thriving.  The summer has been busy indeed, and the brothers discuss the places on earth where marriage proposals seem to happen.  They discuss the new Cleveland baseball team nickname.  And end the chit-chat on Dave's move into his new co-housing.
The main topic of the week is around the question of whether it is possible to hack capitalism.  In other words, can capitalist tools be used to undo capitalism?  The Crew starts this question by laying out what capitalism is and what it does to people and the world, and whether capitalism can be reformed or is revolution needed.  The brothers believe revolutionary change is needed, however what revolution looks like for the majority of people in the world has led to more complex thinking.  This leads to the concept of revolutionary reforms which the brothers develop.
Dave presents the "credit card hack (scam)."  Dave discusses how to use the deals that credit card companies give people to gain the benefits and then get out.  The Crew discusses where this falls on the revolution vs. reform discussion.
References:
Reformist Reforms vs. Abolitionist Reforms
Quick Fix
How can I watch the Olympics without a TV?  Use friend's log-in to Xfiniti. 
Contact info
Email - davepeachtree@gmail.com
Twitter - @BMaze19
IG - Thriving_In_Dystopia
Website - https://thrivingindystopia.com/
TikTok - @davepeachtree
Deep appreciation to In Heaven by Drake Stafford for our intro song, Bach's Goldberg Variations is the new outro, the prolific and enigmatic Joe Shine for the thumbnail art.   Big thank you to Nadir Čajić for editing this week's show.   Finally, we are indebted to the wonderful Chris Sawyer for funding and creating our new website.  Thank you, Mix.