Episodes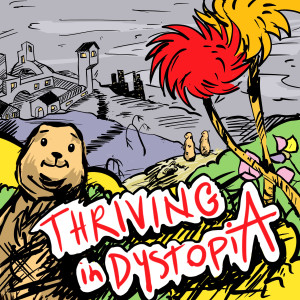 Monday Jul 26, 2021
Monday Jul 26, 2021
The brothers are joined by Bob's new cat, Teddy Bear.  They discuss introducing kittens to a new home (with Teddy mewing in the background).  Dave theorizes that we do things for 4 reasons: to make money, because we love it, for others, and to do something new; and then asks Bob why he does the podcast.  Lastly, they let listeners know that they are working on a new podcast with friend Dan C that will take sports on in a critical way.
The topic for the week is what is art's role in building another world?  Bob draws on his research on artivism, which Chela Sandoval describes as art in the service of changing the world.  He makes the point that we can all be artists because art is more of a way of approaching the world than an elite skill. 
This reminds Dave of when the brothers started a collective called Artist for Justice within the Rocky Mountain Peace and Justice Center many years ago.  Dave loves the idea of art as creation and reflects where he feels creativity.  
Quick Fix
How can we spend less time scrolling on our telephone?  Put your cellphone in a drawer and leave it there.  Do that for an hour a day.
Contact info
Email - davepeachtree@gmail.com
Twitter - @BMaze19
IG - Thriving_In_Dystopia
Website - https://thrivingindystopia.com/
TikTok - @davepeachtree
Deep appreciation to In Heaven by Drake Stafford for our intro song, Bach's Goldberg Variations is the new outro, the prolific and enigmatic Joe Shine for the thumbnail art.   Big thank you to Nadir Čajić for editing this week's show.   Finally, we are indebted to the wonderful Chris Sawyer for funding and creating our new website.  Thank you, Mix.