Episodes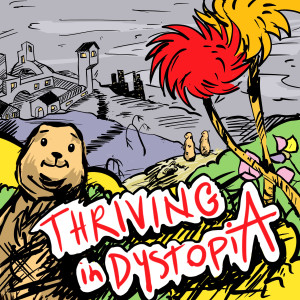 Sunday Jun 27, 2021
Sunday Jun 27, 2021
The brothers are blessed to have friend Dan, the Lynx of the Rocky Mountains, on the show.  They start by discussing the intersection of basketball, culture, soccer, Keeping Up With The Kardashians, and gender relations. 
The main topic is whether another world of sports is possible?  What kind of sports world do we want?  The Crew shares their perspectives on what can be done to confront the cisheteropatriarchal dynamics in sports. 
Box score from Seattle Supersonics @ Los Angeles Lakers on Nov 27, 2007, a month after the first episode of Keeping Up With The Kardashians aired.  In this game rookie Kevin Durant played against Khloe Kardashian ex-partner Lamar Odom.
Contact info
Email - davepeachtree@gmail.com
Twitter - @BMaze19
IG - Thriving_In_Dystopia
Website - https://thrivingindystopia.com/
TikTok - @davepeachtree
Deep appreciation to In Heaven by Drake Stafford for our intro song, Bach's Goldberg Variations is the new outro, the prolific and enigmatic Joe Shine for the thumbnail art.   Big thank you to Nadir Čajić for editing this week's show.   Finally, we are indebted to the wonderful Chris Sawyer for funding and creating our new website.  Thank you, Mix.