Episodes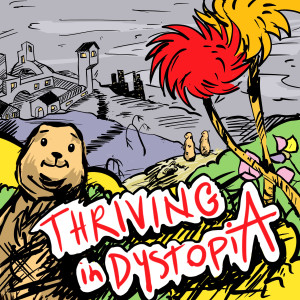 Sunday May 30, 2021
Sunday May 30, 2021
Another Podcast Is Possible
New season! The Crew reviews all the Gut Checks from season 6.  Great picks!
Dave is done with his school year and will have Peachtree Pizza with his kiddos.  His students did so well with their reading progress!
The theme of the new season is "another world is possible."  Bob thinks that expanding on this simple thought is key to social change (including police abolition).  The brothers first came across this phrase volunteering at Lefthand Books, the one-time socialist bookstore in Boulder.  Bob asks Dave, what does the "world" mean in this question.  Dave expands on the obscene wealth inequality in the world.
The episode ends with the Crew wanting to explore why the idealist is so smeared in our society.  Connected with this is their desire to explore utopias and utopian thinking this season.  
Quick Fix
You are making pork chops for dinner, and you have the bread crumbs, the flour, but you don't have eggs.  What do you do?....Mayonnaise!
Contact info
Email - davepeachtree@gmail.com
Twitter - @BMaze19
IG - Thriving_In_Dystopia
Website - https://thrivingindystopia.com/
TikTok - @davepeachtree
Deep appreciation to In Heaven by Drake Stafford for our intro song, Bach's Goldberg Variations is the new outro, the prolific and enigmatic Joe Shine for the thumbnail art.   Big thank you to Nadir Čajić for editing this week's show.   Finally, we are indebted to the wonderful Chris Sawyer for funding and creating our new website.  Thank you, Mix.