Episodes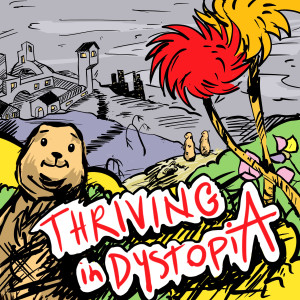 Tuesday May 25, 2021
Tuesday May 25, 2021
Dave reflects on the end of the school year for him and his kiddos.  Bringing the reading-level up gives him good energy.  Bob reflects on the podcast turning 1 year old!  
The final episode of season 6 on baggage!  The topic of the day is what baggage has been picked up or left off during the pandemic?  Bob starts and discusses picking up baseball uber-fandom during the pandemic.  It's an escapism, not a terrible one, but one that feels to Bob like he should do something with it.
Dave brings up moving to a new community during the pandemic, and then feeling a lack of connection to the greater Ft. Collins and Colorado community.  Bob brings in Patrick Hamilton's advice that in the pandemic: there is pandemic forgiveness, in which friends don't have to come up with excuses about not connecting with each other.  
Gut Check
Thriving in Dystopia will still exist in a year, May 2022.  (Bob gives it a 8; Dave says 7).
Contact info
Email - davepeachtree@gmail.com
Twitter - @BMaze19
IG - Thriving_In_Dystopia
Website - https://thrivingindystopia.com/
TikTok - @davepeachtree
Deep appreciation to In Heaven by Drake Stafford for our intro song, Stay by Valerie June is the new outro, the prolific and enigmatic Joe Shine for the thumbnail art.   Big thank you to Nadir Čajić for editing this week's show.   Finally, we are indebted to the wonderful Chris Sawyer for funding and creating our new website.  Thank you, Mix.