Episodes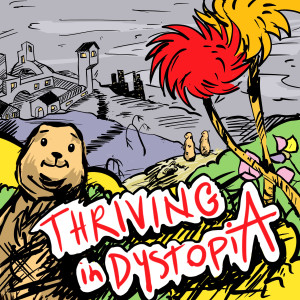 Sunday May 16, 2021
Sunday May 16, 2021
Dave sings the show in with what Bob thought was a Divinyls song, but in actuality, is Lovefool by the Cardigans, a song famously featured on The Office on season 3, episode 5 (and not Austin Powers -- that was Carnival). Dave was looking for the lyric, "I can't care 'bout anything but you." 
The Crew structures this episode based on "Wonderful," by Griffin and Rachel McElroy. 
Dave's small wonder is the chocolate-salted caramel.  Bob's is quiz-mastering.
Dave's big wonder is boardgames. Note: The gallbladder stores bile, not insulin. 
Bob's big wonder is direct action.
Gut Check
By 2030 there will be a 51st U.S. state (Bob gives it a 7; Dave gives it a 10).
Contact info
Email - davepeachtree@gmail.com
Twitter - @BMaze19
IG - Thriving_In_Dystopia
Website - https://thrivingindystopia.com/
TikTok - @davepeachtree
Deep appreciation to In Heaven by Drake Stafford for our intro song, Stay by Valerie June is the new outro, the prolific and enigmatic Joe Shine for the thumbnail art.   Big thank you to Nadir Čajić for editing this week's show.   Finally, we are indebted to the wonderful Chris Sawyer for funding and creating our new website.  Thank you, Mix.