Episodes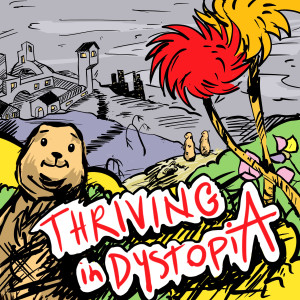 Monday Apr 05, 2021
Monday Apr 05, 2021
The brothers first talk wasabi burns and then get into discussing the 1st weekend of the NCAA tourney.   Dave's finishing up his spring break, and Bob is almost starting theirs. Dave's high is an hour and a half run that he went on, which triggers a conversation on running.
The topic of today's show is unpacking our physical pain, especially with a lens to emotional roots of pain.  Dave discusses how his awful back pain a few years ago eased and began to heal after seeing a homeopath.  He brings in ideas about how to release stress that builds up in our bodies.  Bob has come to understand that fascia in our body plays an important role in connecting physical pain and emotional stress. 
Errata: Texas State are the Bobcats; not the Wildcats as Bob said.
Gut Check
Air travel will become as normalized this summer as before the pandemic.  Dave gives it a 9/10. Bob says 7/10.
Contact info
Email - davepeachtree@gmail.com
Twitter - @BMaze19
IG - Thriving_In_Dystopia
Website - https://thrivingindystopia.com/
TikTok - @davepeachtree
Deep appreciation to In Heaven by Drake Stafford for our intro song, Stay by Valerie June is the new outro, the prolific and enigmatic Joe Shine for the thumbnail art.   Big thank you to Nadir Čajić for editing this week's show.   Finally, we are indebted to the wonderful Chris Sawyer for funding and creating our new website.  Thank you, Mix.