Episodes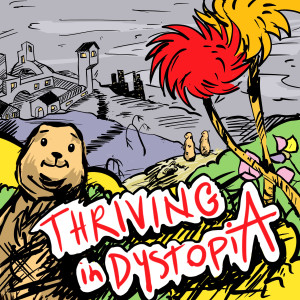 Monday Mar 29, 2021
Monday Mar 29, 2021
Bob and Dave discuss some of their strengths as podcasters. They recorded this episode on St. Patrick's Day, and they discuss the origins of the Whiskey-Milk drink. 
The Crew introduces the new season's theme: baggage.  They start with the premise that all human's have baggage.  They want to "unpack the baggage," in multiple ways this season. 
For episode 1, the brothers keep it concrete and dystopia and discuss packing a go-bag.  This is rooted in the plot of Octavia Butler's Parable of the Sower in which the heroes become refugees and have to leave their home with a packed bag.  Bob created a go-bag last summer during the California fire season, so the Crew discusses what's in that bag.  
Gut Check
A double-digit seed team (10 or below) will win the men's NCAA tournament this year. (Dave gives it a 3.  Bob gives it a 2).
Contact info
Email - davepeachtree@gmail.com
Twitter - @BMaze19
IG - Thriving_In_Dystopia
Website - https://thrivingindystopia.com/
TikTok - @davepeachtree
Deep appreciation to In Heaven by Drake Stafford for our intro song, Stay by Valerie June is the new outro, the prolific and enigmatic Joe Shine for the thumbnail art.   Big thank you to Nadir Čajić for editing this week's show.   Finally, we are indebted to the wonderful Chris Sawyer for funding and creating our new website.  Thank you, Mix.