Episodes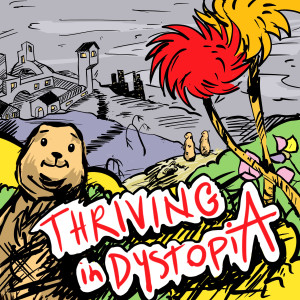 Friday Mar 19, 2021
Friday Mar 19, 2021
Dave starts the episode telling Bob a scary and wild story of how he almost lost his wedding ring (hint: think hamburg).  The Crew then discusses COVID-related issues including some ethical questions related to vaccination.  
The topic of the show is a look back on season 5.  The Crew harvest some take-home messages from the season on avoidance with the focus on how we can strengthen our confronting muscles. 
The brothers end with a baseball question.  And to you listeners, let us know if you want to join our fantasy league.  Spots available!
Dystopian Rainbow
Octavia's Brood: Science Fiction from Social Justice Movements edited by adrienne maree brown and Walidah Imarisha.  But don't take our word for it….
Contact info
Email - davepeachtree@gmail.com
Twitter - @BMaze19
IG - Thriving_In_Dystopia
Website - https://thrivingindystopia.com/
TikTok - @davepeachtree
Deep appreciation to In Heaven by Drake Stafford for our intro song, Bashful by Ketza is the new outro, the prolific and enigmatic Joe Shine for the thumbnail art.   Big thank you to Nadir Čajić for editing this week's show.   Finally, we are indebted to the wonderful Chris Sawyer for funding and creating our new website.  Thank you, Mix.