Episodes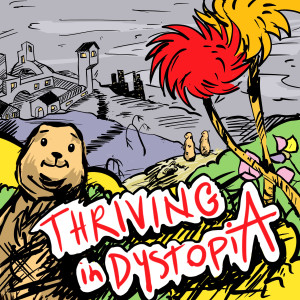 Friday Mar 05, 2021
Friday Mar 05, 2021
The Crew shifts it up this week and starts out with some content off the bat.  They take on the issue of procrastination (a type of avoidance).  Procrastination has a heavy negative connotation, but they brother discuss whether that's always warranted.  They agree at least that the high-level of anxiety can be dissipated when understanding one's own work process. 
The main portion of the show is a change of pace.  The brothers wanted to share some music with each other for the week.  
Shouldn't Have to Be Like That - Fra Lippo Lippi
The Mother We Share - Chvches
Level It Up - The Coup
The First Breath After Coma - Explosions in the Sky
Jesusland - Ben Folds
Dystopian Rainbow
Sorry to Bother You that Bob mentioned in the music portion of the show directed and written by the Coup frontman Boots Riley.
Contact info
Email - davepeachtree@gmail.com
Twitter - @BMaze19
IG - Thriving_In_Dystopia
Website - https://thrivingindystopia.com/
TikTok - @davepeachtree
Deep appreciation to In Heaven by Drake Stafford for our intro song, Bashful by Ketza is the new outro, the prolific and enigmatic Joe Shine for the thumbnail art.   Big thank you to Nadir Čajić for editing this week's show.   Finally, we are indebted to the wonderful Chris Sawyer for funding and creating our new website.  Thank you, Mix.