Episodes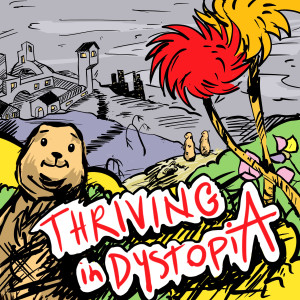 Friday Feb 12, 2021
Friday Feb 12, 2021
Dave tells the story of Peachtree to open the show, where the name came from, what it means to Dave and Julie, and how hard it was to get.
Last week, the Crew looked at the problematic aspects of avoidance.  Flipping things around this week, they explore the experience of avoidance and whether there is "healthy avoidance."  They discuss the positive effects of taking a step back or taking some space, but question whether that's avoidance.  When does avoidance start?
They then turn to times of protective avoidance.  Can avoidance be protective when the stimulus is just too painful to deal with?
Dystopian Rainbow
An absolute classic: Ray Bradbury's Fahrenheit 451.
Contact info
Email - davepeachtree@gmail.com
Twitter - @BMaze19
IG - Thriving_In_Dystopia
Website - https://thrivingindystopia.com/
TikTok - @davepeachtree
Deep appreciation to In Heaven by Drake Stafford for our intro song, Bashful by Ketza is the new outro, the prolific and enigmatic Joe Shine for the thumbnail art.   Big thank you to Nadir Čajić for editing this week's show.   Finally, we are indebted to the wonderful Chris Sawyer for funding and creating our new website.  Thank you, Mix.