Episodes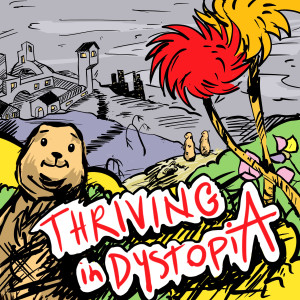 Thursday Feb 04, 2021
Thursday Feb 04, 2021
Some Thriving chatter turned up to 11 to start the show.  The Crew plots out a new NBA team for Dave to follow this year: some interesting social justice questions arise and the conversation eventually connects to Randall Cunningham of all places!  The brothers then honor their mom on Helen Majzler Day!  And discuss the meaning of that day, Jan. 23. 
The topic of the show is confrontation of avoidance. Particularly, they discuss the specifics and logistics of making such confrontations.  Dave tells a powerful story about finding collective courage in his 4th grade classroom: "I've never been as proud of a student as in that moment."  So good, that Dave broke his dairy-free diet at the end of the story.
The story reminds Bob of a story in his own classroom last fall.  And after the story telling, some take-homes are harvested
Dystopian Rainbow
Watchmen (2019) - Politically strong and prescient education of Tulsa 1921, the show also outshine the very amazing graphic novel upon which it is based.  
Contact info
Email - davepeachtree@gmail.com
Twitter - @BMaze19
IG - Thriving_In_Dystopia
Website - https://thrivingindystopia.com/
TikTok - @davepeachtree
Deep appreciation to In Heaven by Drake Stafford for our intro song, Bashful by Ketza is the new outro, the prolific and enigmatic Joe Shine for the thumbnail art.   Big thank you to Nadir Čajić for editing this week's show.   Finally, we are indebted to the wonderful Chris Sawyer for funding and creating our new website.  Thank you, Mix.