Episodes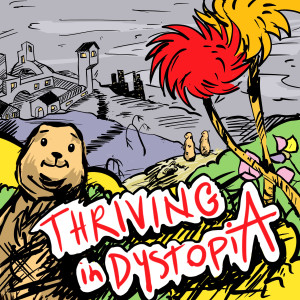 Sunday Dec 20, 2020
Sunday Dec 20, 2020
The Crew hosts old friend and poet Dan Cantrick on the show to talk about "poetic activism."  But first, Dan explains what post-holing is with a story about hiking that listeners will not soon forget. #loneeagle. In answering Dave's question about what moves him in poetry, Dan discusses the musicality of words and refers to Claudia Rankine.  The Crew digs into poetry, music, and activism in history drawing connections between the music of the I.W.W. in the early 20th Century to the poetry of the Spanish anarchists in the Spanish Civil War.  They end with implications for current social movements.
Did you Know?
December 14 was Electors Day.  Back in 2016 Bob and Dan demonstrated with others in Denver on Elector's Day in an effort to encourage faithless electors and prevent the election of the Orange Menace.
Contact info
Email - davepeachtree@gmail.com
Twitter - @BMaze19
IG - Thriving_In_Dystopia
Website - https://thrivingindystopia.com/
TikTok - @davepeachtree

Deep appreciation to In Heaven by Drake Stafford for our intro song, Only Fools Rush performed by the crooner Nadir Čajić is the new outro, the prolific and enigmatic Joe Shine for the thumbnail art.   Big thank you to Nadir Čajić for editing this week's show.   Finally, we are indebted to the wonderful Chris Sawyer for funding and creating our new website.  Thank you, Mix.