Episodes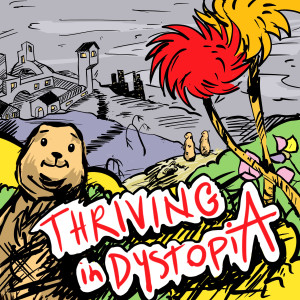 Tuesday Dec 08, 2020
Tuesday Dec 08, 2020
The show starts with darkness.  The Crew discusses the awful surge in COVID cases, and then go darker to discuss the federal governments reinstating of the death penalty.  CONTENT WARNING: discussion of the death penalty, child abuse, and sexual abuse from minutes 11 to 16.  The main topic of the episode is celebrating the other.  The brothers discuss gift giving, love languages, gratitude, Joanna Macy and the work that reconnects.
Helen Prejean on Democracy Now
The Book of Delights by Ross Gay
Did you Know?
The spice in peppers, capsaicin, can help ease an athsmetic attack: https://www.webmd.com/asthma/news/20040525/fiery-hot-therapy-improves-asthma  
Contact info
Email - davepeachtree@gmail.com
Twitter - @BMaze19
IG - Thriving_In_Dystopia
Website - https://thrivingindystopia.com/
TikTok - @davepeachtree
Deep appreciation to In Heaven by Drake Stafford for our intro song, Only Fools Rush performed by the crooner Nadir Čajić is the new outro, the prolific and enigmatic Joe Shine for the thumbnail art.   Big thank you to Nadir Čajić for editing this week's show.   Finally, we are indebted to the wonderful Chris Sawyer for funding and creating our new website.  Thank you, Mix.