Episodes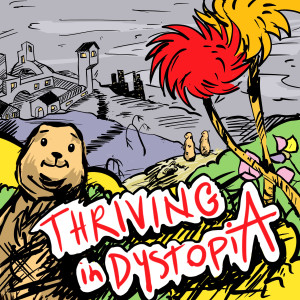 Monday Nov 30, 2020
Monday Nov 30, 2020
Dave and Bob get together for a daytime recorded Thriving for the first time in months. After sharing gratitude, Bob goes off on corporate Democrats and their insipid actions and beliefs.  The Crew dives into the topic of zero-sum celebrations, which are celebrating wins and celebrating the loses of others.  They discuss how they see these ideas being socialized into children when the "win at any costs" of Michael Jordan or Tom Brady is worshiped.  They tell the story of Star Fox, a moment in their video game history that proved pivotal in their lives.   
#squozed 
Bob mentioned Cecilia Munoz, a member of Biden's transition team, who defended Obama Era family separations: https://www.pbs.org/wgbh/frontline/article/cecilia-munoz-even-broken-laws-have-to-be-enforced/ 
Did you Know?
That in Congressional swing districts in 2020, 6 of the House Dems who lost ranked top 22 most conservative Dems in the House.  On the other hand, 9 of the 11 progressives in these districts won. Progressives and progressive ideas can win in Centrist districts.  More more see this: https://www.politico.com/f/?id=00000175-b4b4-dc7f-a3fd-bdf660490000 
Contact info
Email - davepeachtree@gmail.com
Twitter - @BMaze19
IG - Thriving_In_Dystopia
Website - https://thrivingindystopia.com/
TikTok - @davepeachtree
Deep appreciation to In Heaven by Drake Stafford for our intro song, Only Fools Rush performed by the crooner Nadir Čajić is the new outro, the prolific and enigmatic Joe Shine for the thumbnail art.   Big thank you to Nadir Čajić for editing this week's show.   Finally, we are indebted to the wonderful Chris Sawyer for funding and creating our new website.  Thank you, Mix.