Episodes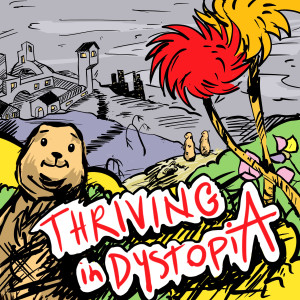 Tuesday Nov 17, 2020
Tuesday Nov 17, 2020
Dave and Bob chat about Dave's wild day which started with a flat tire and ended with podcasting while standing up!  They delve into election analysis (this was recorded on Nov. 5).  The Thriving Crew embarks on a new season, a season of celebration!  Well, we will be discussing the concept of "celebration."  What is the place of celebration in a dystopia?  How should we celebrate, if at all? Bob discusses the feelings behind postponing his wedding a year.  Dave discusses how it's been having a successful year professionally but not knowing how to celebrate it.  They end the episode discussing some of their favorite celebrations in their life. 
Did you Know?
Colorado had 78% voter turnout.  Second highest in the Union.  (Actually, when more voting has been counted, it's 76% and 4th in the Union: https://www.statista.com/statistics/1184621/presidential-election-voter-turnout-rate-state/). 
Contact info
Email - davepeachtree@gmail.com
Twitter - @BMaze19
IG - Thriving_In_Dystopia
Website - https://thrivingindystopia.com/
Deep appreciation to In Heaven by Drake Stafford for our intro song, Today's Special: Tomorrow's Jam by Doctor Turtle is the new outro, the prolific and enigmatic Joe Shine for the thumbnail art.   Big thank you to Nadir Čajić for editing this week's show.   Finally, we are indebted to the wonderful Chris Sawyer for funding and creating our new website.  Thank you, Mix.