Episodes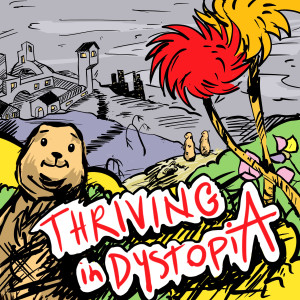 Thursday Oct 15, 2020
Thursday Oct 15, 2020
A lot of chuckles to start the show talking basketball nicknames.  They then discuss what the right response to an ailing fascist is.  This is all before the topic of the day.  The topic of the day is physical/geographical separation.  Dave recounts a sweet story about being scared as a kid and going to Bob's bed to sleep (and that was comforting but for reasons you might not think).  They discuss the ways that the pandemic robs us of being with our loved ones.  There is a poverty of experience over zoom.  The brothers miss time spent together when no one has to be "on," and people can just hang out.  The brother, however, did find a way to recreate this through listening to a baseball game together recently.
Hot Seat Question: Are you going to vote? Who will you vote for? (Bob's response)
Contact info
Email - davepeachtree@gmail.com
Twitter - @BMaze19
IG - Thriving_In_Dystopia
Website - https://thrivingindystopia.com/

Deep appreciation to In Heaven by Drake Stafford for our intro song, Today's Special: Tomorrow's Jam by Doctor Turtle is the new outro, the prolific and enigmatic Joe Shine for the thumbnail art.   Big thank you to Nadir Čajić for editing this week's show.   Finally, we are indebted to the wonderful Chris Sawyer for funding and creating our new website.  Thank you, Mix.