Episodes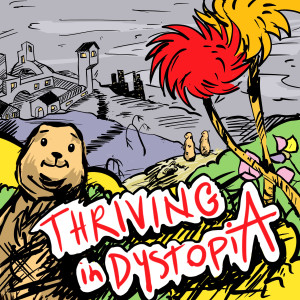 Tuesday Oct 06, 2020
Tuesday Oct 06, 2020
Dave and Bob bring some joy and laughter into the Studio and check in on the lifting veil that is October.  They also check back in on the season theme, separation, and how they've been able to put their ideas into praxis or not.  The theme of the week is trying to understand why sometimes being alone feels like solitude (nourishing) and sometimes it feels like loneliness (filled with sadness).  They give a few stories of experiences in these states of being.  They close wondering about the effects of technology on our alone time and the importance of being intentional around it.
Hot Seat Question: Are you going to vote? Who will you vote for?
Tuned In
Bake Off is back! (season 11)
Contact info
Email - davepeachtree@gmail.com
Twitter - @BMaze19
IG - Thriving_In_Dystopia
Website - https://thrivingindystopia.com/

Deep appreciation to In Heaven by Drake Stafford for our intro song, Today's Special: Tomorrow's Jam by Doctor Turtle is the new outro, the prolific and enigmatic Joe Shine for the thumbnail art.   Big thank you to Nadir Čajić for editing this week's show.   Finally, we are indebted to the wonderful Chris Sawyer for funding and creating our new website.  Thank you, Mix.