Episodes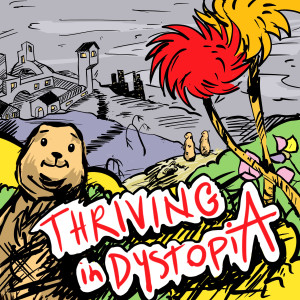 Wednesday Sep 30, 2020
Wednesday Sep 30, 2020
The Thriving Crew welcomes Dave Harris back to the studio to complete their discussion on cinema and dystopia.  This week they discuss movies that highlight mental health, climate, and racist dystopias.  They find a lot of real gems (see below)! They end the show with a look at the current state of cinema with movie theaters that haven't been open since March.
Climate crisis picks:
DH - Mad Max Fury Road
BM - Okja


Mental health crisis picks:
DM - The Lobster
DH - Synedoche, New York
Racism picks:
BM - Get Out
DM - The Deep by clipping (song)
DH - Strange Days
Contact info
Email - davepeachtree@gmail.com
Twitter - @BMaze19
IG - Thriving_In_Dystopia
Website - https://thrivingindystopia.com/
Deep appreciation to In Heaven by Drake Stafford for our intro song, outro is clipping by The Deep , the prolific and enigmatic Joe Shine for the thumbnail art.   Big thank you to Nadir Čajić for editing this week's show.   Finally, we are indebted to the wonderful Chris Sawyer for funding and creating our new website.  Thank you, Mix.