Episodes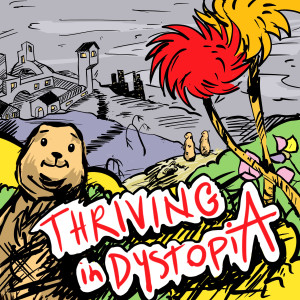 Tuesday Sep 22, 2020
Tuesday Sep 22, 2020
The Thriving Crew welcomes the multi-talented and T.i.D. junkie Dave Harris to the show to discuss the state of cinema in the pandemic.  They start with developing DH's 5-colliding-crises framework (not to be mixed up with Kill Bill's 5-finger-exploding-heart technique): public health, economic, racial justice, climate, and mental health.  They then discuss great movies that fit in to each of these categories.  This week delves into the public health and economic crises.
MILD SPOILERS AHEAD
Feld's 3 crises that inspired Dave Harris' framework of facing 5.
Public health crisis picks:
DH & BM - Children of Men
DM - Rams
Economic crisis picks:
BM - The Florida Project
DH - Metropolis
DM - Brazil
Hot Seat Question: 
Contact info
Email - davepeachtree@gmail.com
Twitter - @BMaze19
IG - Thriving_In_Dystopia
Website - https://thrivingindystopia.com/

Deep appreciation to In Heaven by Drake Stafford for our intro song, Today's Special: Tomorrow's Jam by Doctor Turtle is the new outro, the prolific and enigmatic Joe Shine for the thumbnail art.   Big thank you to Nadir Čajić for editing this week's show.   Finally, we are indebted to the wonderful Chris Sawyer for funding and creating our new website.  Thank you, Mix.