Episodes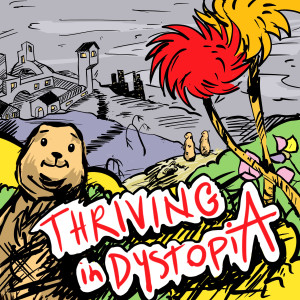 Wednesday Sep 16, 2020
Wednesday Sep 16, 2020
This is the 3rd episode of a mini-series within a series: letting go, forgiveness, and moving on. But first, the listeners came through with a song request, and the Thriving Crew puts on a show to start the episode.  The heart of the show is delving into the unforgivable and whether there are things that are simply beyond forgiveness.  The answer to this seems to be contextual.  Sometimes this idea of unforgivable is used to hurt people (e.g. lock a person up and throw away the key), while in other places moving on means not forgiving but keeping moving.
Beyond Survival is the great book that Bob spoke about
Some good news: Bill to give path for incarcerated folks to become firefighters upon release
Hot Seat Question: 
If you could meet and have dinner with any person who ever lived, who would it be and why?
Contact info
Email - davepeachtree@gmail.com
Twitter - @BMaze19
IG - Thriving_In_Dystopia
Website - https://thrivingindystopia.com/

Deep appreciation to In Heaven by Drake Stafford for our intro song, Today's Special: Tomorrow's Jam by Doctor Turtle is the new outro, the prolific and enigmatic Joe Shine for the thumbnail art.   Big thank you to Nadir Čajić for editing this week's show.   Finally, we are indebted to the wonderful Chris Sawyer for funding and creating our new website.  Thank you, Mix.