Episodes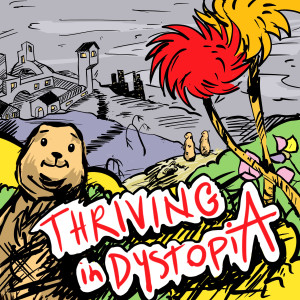 Tuesday Sep 08, 2020
Tuesday Sep 08, 2020
In the intro segment reminiscent of My Brother, My Brother, and Me, Bob and Dave issue a moratorium on singing until listeners send in song suggestions (send them in!).  The Crew gets into the theme of the week: forgiveness, which is a part 2 of the theme from last week, letting go.  Although forgiveness can't be forced, U.S. culture seems to teach children and everyone else the opposite.  Based on psychological research, the brothers suggest that we might work on the social conditions that lead to forgiveness rather than simply pushing people to forgive.  
Bob enjoyed Bear Lake so much it made him float.
Short article on forgiveness research
Hot Seat Question: 
If you could get back one thing you've lost in the pandemic, what would it be?
Contact info
Email - davepeachtree@gmail.com
Twitter - @BMaze19
IG - Thriving_In_Dystopia
New website! - https://thrivingindystopia.com/
Deep appreciation to In Heaven by Drake Stafford for our intro song, Today's Special: Tomorrows Jam by Doctor Turtle is the new outro, the prolific and enigmatic Joe Shine for the thumbnail art.   Big thank you to Nadir Čajić for editing this week's show.   Finally, we are indebted to the wonderful Chris Sawyer for funding and creating our new website.  Thank you, Mix.