Episodes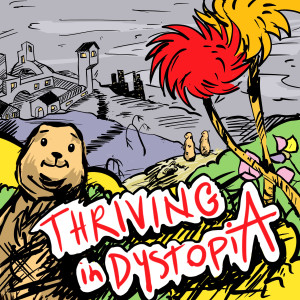 Monday Aug 31, 2020
Monday Aug 31, 2020
New Season!  This season's theme will be separation.  Separation means preparing apart, getting distance, releasing, and perhaps counter-intuitively deeper connection at times.  For the next 8 episodes, let's come together to come apart.
The show starts with a fascinating update on the classroom situation, and Dave flying the U.S.S. Enterprise with his 4th graders.  The sub-theme of the week is letting go and psychological separation.  Bob delves into a personal crutch that has gotten him through the pandemic and how to be able to let go of crutches when the time comes.
Did Dave read The Power of Letting Go?  Only he knows.
Some solid apropos commentary on the sports walkout
Hot Seat Questions: 
What is the worst purchase you ever made? 
What is the best purchase you have ever made?
Contact info
Email - davepeachtree@gmail.com
Twitter - @BMaze19
IG - Thriving_In_Dystopia
New website! - https://thrivingindystopia.com/

Deep appreciation to In Heaven by Drake Stafford for our intro song, Today's Special: Tomorrows Jam by Doctor Turtle is the new outro , the prolific and enigmatic Joe Shine for the thumbnail art.   Big thank you to Nadir Čajić for editing this week's show.   Finally, we are indebted to the wonderful Chris Sawyer for funding and creating our new website.  Thank you, Mix.