Episodes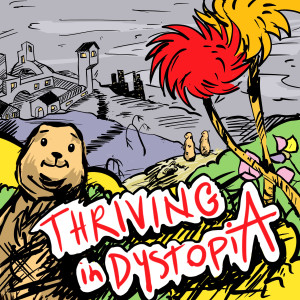 Monday Jul 20, 2020
Monday Jul 20, 2020
Writer Michael Bishop reads his essay Primum Non Nocere: First, Do No Harm to start the show.  The essay is part investigative journalism, part creative non-fiction and interrogates the taken-for-granted practice of organ donation and recovery.  The Thriving crew discuss the essay, especially for how it illuminates what amounts to a kafkaesque custom.  In taking the wool away from our eyes, the discussion builds to using politically-informed art to uncover other taken-for-granted facets of our lives, especially ones more vivid in the pandemic. 
CONTENT WARNING: The essay contains vivid descriptions of medical procedures including organ recovery surgery.  The story runs from minutes 6 through 22:30.
Huge thanks to In Heaven by Drake Stafford for our intro song, A Time for Action by Kennedy for our outro, the prolific and enigmatic Joe Shine for the thumbnail art, the Normal School for Mike's essay, and Kai Engel for the great suspense music.
For the written version of Mike's Primum Non Nocere essay at the Normal School.
Tuned-in:
King Tut's once forgotten tomb
There, There by Tommy Orange and the great Albert Camus
Get in touch with us for the best late 90s mix ever!
Get In Touch
Mike: MichaelBishop1981@gmail.com
Show:
Email: davepeachtree@gmail.com
Twitter - @BMaze19
IG - Thriving_In_Dystopia