Episodes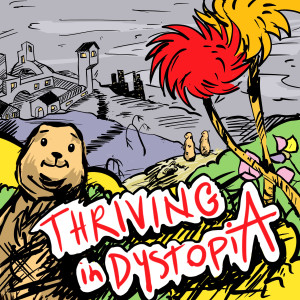 Monday Oct 04, 2021
Monday Oct 04, 2021
The brothers muse on what turning 40 means (it's the day before Bob's birthday). The show is in the Matrix white room (in-between seasons).  So the Crew does a big ol' fashion tuned-in episode and share what TV, movies, music, sports, and podcasts they've been into.
TV
Dave: Sex Education (Netflix)
Upload (Prime)
Bob: Reservation Dogs (Hulu)
Sweet Tooth (Netflix)
Books
Both: Having and Being Had by Eula Biss
Movies
Dave: Kicking and Screaming (1995) with mention of Eric Stoltz being the original Marty McFly!
Bob: Freaks (2018)
Sports
Music
Bob: Videoclub (French band)
Dave: Lofi chill out 
Podcast
Both: 60 Songs that Explain the 90s
Bob: For the Wild with Ayanna Young
Quatschen
Total Recall (1990 & 2012): Give These People Air
Contact info
Email - davepeachtree@gmail.com
Twitter - @BMaze19
IG - Thriving_In_Dystopia
Website - https://thrivingindystopia.com/
TikTok - @davepeachtree
Deep appreciation to In Heaven by Drake Stafford for our intro song, Bach's Goldberg Variations is the new outro, the prolific and enigmatic Joe Shine for the thumbnail art.   Big thank you to Nadir Čajić for editing this week's show.   Finally, we are indebted to the wonderful Chris Sawyer for funding and creating our new website.  Thank you, Mix.