Episodes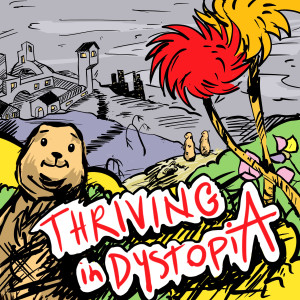 Sunday Jun 20, 2021
Sunday Jun 20, 2021
The show starts with Dave sharing that he recently had to sell his chicken which brought some unexpected thoughts.  Bob reflects on the last week of his school year teaching at Zoom U.
For the show today, the Crew takes from the movie High Fidelity and the book Read and Riot by Nadya Tolokonnokova (of Pussy Riot) to make their Top 3 list with the category: Making Another World Possible.
Dave's list:
Unplug (from the world)

Connect (to the earth)

Give to the community in some way, any way.
Bob's list
Find a radical documentary and watch it.  Even better, watch it with friends.

If you don't have kids, support parents and help with childcare.
Quick Fix
If you hear faint dripping in your walls after doing dishes, what should you do?  Call your supe or plumber!
Contact info
Email - davepeachtree@gmail.com
Twitter - @BMaze19
IG - Thriving_In_Dystopia
Website - https://thrivingindystopia.com/
TikTok - @davepeachtree
Deep appreciation to In Heaven by Drake Stafford for our intro song, Bach's Goldberg Variations is the new outro, the prolific and enigmatic Joe Shine for the thumbnail art.   Big thank you to Nadir Čajić for editing this week's show.   Finally, we are indebted to the wonderful Chris Sawyer for funding and creating our new website.  Thank you, Mix.