Episodes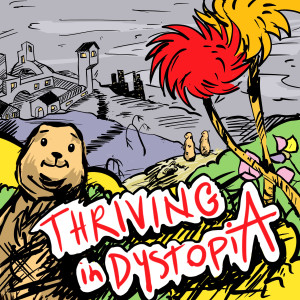 Wednesday Oct 28, 2020
Wednesday Oct 28, 2020
Kosher pickles appetizer (:30): Bob and Dave talk shop about teaching in the pandemic and the widening divide.  And how to celebrate Halloween this year?  One word: chalkies.
Bread first course (14:45): The Crew discuss their favorite Thriving episodes thus far.  
Tempeh meat (19:11):  The big event is about the pledge of allegiance.  What purpose does this serve?  Brainwashing, nationalism, something else?  Indeed, but what would we want to take its place?
Dessert (32:55): Tuned In: Dave - looking for young adult fiction.  Help Listeners!
Bob - Unsolved Mysteries on Netflix
Contact info
Email - davepeachtree@gmail.com
Twitter - @BMaze19
IG - Thriving_In_Dystopia
Website - https://thrivingindystopia.com/

Deep appreciation to In Heaven by Drake Stafford for our intro song, Today's Special: Tomorrow's Jam by Doctor Turtle is the new outro, the prolific and enigmatic Joe Shine for the thumbnail art.   Big thank you to Nadir Čajić for editing this week's show.   Finally, we are indebted to the wonderful Chris Sawyer for funding and creating our new website.  Thank you, Mix.