Episodes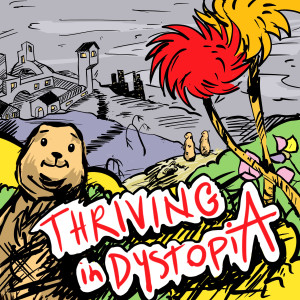 Friday Feb 26, 2021
Friday Feb 26, 2021
After a few renditions of video game songs from 30 years ago, the Crew talks tending for chickens in the winter.  Dave's birds along with other Coloradoans had to make it through -10 degree weather recently.  It's a good one for our herpetologist fans out there!
The topic of the week is avoiding the disgusting.  Bob starts with discussing his journey to becoming "poop positive."  Dave builds on this idea and questions the idea of "away," as in "just throw it away" or "take it away."   The conversation takes them to discussing prisons, slaughterhouses, and even Lake Champlain. 
Confronting the things we consider disgusting can allow for us to open our eyes to the systems that deal with "the disgusting," and see how brutal and awful they are.  
Humanure Handbook free online: https://humanurehandbook.com/contents.html 
Baseball Bits on fixing MLB: https://www.youtube.com/watch?v=uh_F8WtrDCo&ab_channel=FoolishBaseball 
Dystopian Rainbow
N.K. Jemison's The Fifth Season for a great dystopia on catastrophic climate change.
Contact info
Email - davepeachtree@gmail.com
Twitter - @BMaze19
IG - Thriving_In_Dystopia
Website - https://thrivingindystopia.com/
TikTok - @davepeachtree
Deep appreciation to In Heaven by Drake Stafford for our intro song, Bashful by Ketza is the new outro, the prolific and enigmatic Joe Shine for the thumbnail art.   Big thank you to Nadir Čajić for editing this week's show.   Finally, we are indebted to the wonderful Chris Sawyer for funding and creating our new website.  Thank you, Mix.