Episodes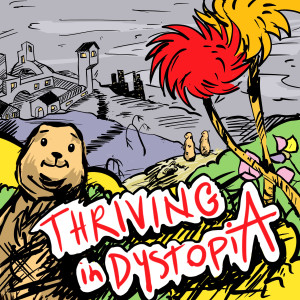 Tuesday Nov 10, 2020
Tuesday Nov 10, 2020
The Crew welcomes Mr. Michael Bishop back to the studio on the eve of the election (show recorded on November 2).  All three discuss how they are feeling and what they predict from the election (mostly pretty spot on; sadly with 45's behavior as well).  Mike called in from D.C., and he shares stories from his trip there inspired by Ruth Ginsberg's passing.  They end with some questions about capitalism, the election, and how to make deeper changes going forward.
Monitor the danger of a Trump coup here: https://choosedemocracy.us/ 
Contact info
Email - davepeachtree@gmail.com
Twitter - @BMaze19
IG - Thriving_In_Dystopia
Website - https://thrivingindystopia.com/

Deep appreciation to In Heaven by Drake Stafford for our intro song, Today's Special: Tomorrow's Jam by Doctor Turtle is the new outro, the prolific and enigmatic Joe Shine for the thumbnail art.   Big thank you to Nadir Čajić for editing this week's show.   Finally, we are indebted to the wonderful Chris Sawyer for funding and creating our new website.  Thank you, Mix.